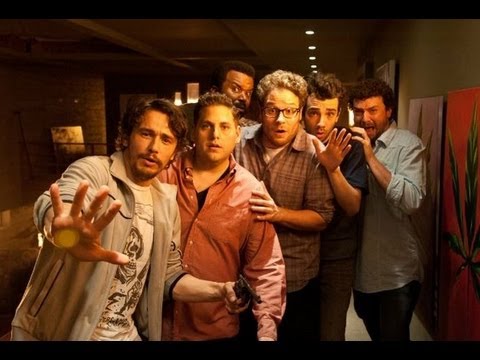 People who know me know I'm all about creative risk.
And when it comes to film making, give me a movie where the collaborators throw something up onscreen that's different, interesting and constitutes a bit of a risk. Even in those instances where they don't exactly hit their mark, I'll still give them props for having done something with a creative twist.
That having been said, I'm here to tell you there's nothing honorable or admirable in setting out for the sole purpose of making what may very well be the most vile, offensive, and downright ugly movie in the history of American cinema. Yes. I said in the history of American cinema.
"This Is the End" is the story of the Apocalypse, as seen through the eyes of young Hollywood's admittedly spoiled rotten "usual suspects" consisting of Seth Rogan, James Franco, Jonah Hill, Craig Robinson and a laundry list of twenty-and-thirty-something stars from recent films like "Pineapple Express," "Knocked Up," and "Superbad."
The Biblical end of the world takes place early on in the movie, and the special effects depiction of fires, explosions, giant cracks in the earth's surface and complete and total, unimaginable chaos is truly amazing. Unfortunately, that's about all there is to like about this comedy, though I do use the term loosely. From there, it's a spirit-crushing, mind-numbing account of what it might really be like in southern California if it was the beginning of the end. The idea of showing these selfish actors and actresses turn against one another, and fighting over a Snickers bar in the face of a dwindling food supply, for example, is actually pretty funny. But the story quickly degenerates into a sort of Olympic-level gross-out competition. You name it. Excretory function, projectile vomiting, every imaginable form of sexual perversion (and I mean every), and rampant illegal drug use are the foundation for this miserable excuse for "entertainment." Special recognition goes to actor Danny McBride, who might come off as the most pathetic person depicted on film in recent history. His elongated scene with James Franco that centers on the…shall we say….."results" of a private session with a skin magazine, made me want to rush home to take a shower. In fact, I'm mystified as to how this film escaped an "NC-17" rating. I've never wished more for a power failure or broken projector so I could just go home! You've heard the term, "It's a good 'first-date' movie?" Well, this is more of a "LAST-date" movie."
There's a couple big laughs and funny scenes in "This Is The End." A forlorn Jonah Hill, fearing his life is about to end in the Apocalyptic carnage, begins to pray to God, and identifies himself AS Jonah Hill….."from 'Moneyball."" And, again, that initial scene when the first images of the end of the world are depicted borders on amazing. But now we're getting into that "other than that, Mr. Lincoln….how did you enjoy the play?" area.
Had a pipe burst during Monday night's screening, and the theatre begun to fill up with a waist-high accumulation of raw sewage, it STILL wouldn't have produced a stench as offensive as what was coming off the screen.
I hope I meet Seth Rogan someday because I want to punch him in the face as hard as I can. How dare he do this to the movies.
ZERO out of five "Corks."